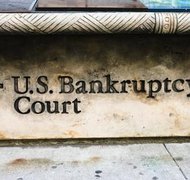 In the course of a Chapter 13 bankruptcy, the court-appointed trustee will schedule a meeting, known as the First Meeting of Creditors, which the debtor must attend. Chapter 341 of the federal bankruptcy code sets down the rules and procedures of this "341" meeting, which lasts only a few minutes in most cases. Although creditors also have a right to attend the meeting to dispute the terms of the plan, in practice, very few do.
Basic Rules
The court-appointed trustee is responsible for scheduling the 341 meeting and notifying the participants. All creditors that you listed on the bankruptcy petition are notified of the date, time and location of the meeting. You must attend the meeting and bring recent pay stubs, federal tax returns, and proof of home and auto insurance, if you own a home or car. At the meeting, the trustee will ask you to swear an oath and affirm that all statements you are about to make are true to the best of your knowledge. The trustee conducts the meeting and answers any questions you have.
Proceedings
Most 341 meetings are held in conference rooms; many of these facilities resemble waiting rooms at which multiple bankruptcy filers wait their turn to be called to the front of the room to answer questions and testify. If he has an attorney, the debtor has the right to consult and speak through the representative. The trustee will go over the bankruptcy schedules to confirm that the debtor has listed all of his assets and debts. The meeting then turns to the repayment plan that the trustee has drawn up for the debtor.
Creditors
Although creditors have the right to represent themselves at the 341 meeting, few of them do. A mortgage lender, credit card company or public agency does not have the resources to attend all 341 meetings of debtors that have defaulted on their debts. Instead, creditors who dispute the trustee's plan may file a written motion, and will only appear if the court schedules a hearing on the matter.
Interview
At the 341 meeting, the trustee will pose a series of questions to the debtor, for the most part concerning the accuracy of the assets and debts listed on the schedules. The trustee may also ask for any documents missing in the court file, such as documentation of any income the debtor may be earning, and remind the debtor that he must notify the court of any significant changes in income or his financial conditions. The trustee will usually outline the repayment plan, mentioning the length of the plan and the monthly payment amount. Finally, the debtor has a chance to pose questions of his own; after which the trustee adjourns the 341 meeting and calls forward the next case.