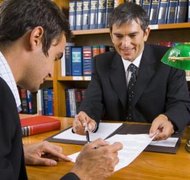 A bankruptcy petition asks a federal court for protection from your creditors. When you file your bankruptcy case, the court notifies the creditors that you have listed on a schedule. Once the case is underway, your creditors have a chance to state how much they're owed. If you forget to list a creditor, you can amend the schedules as long as the case remains open.
Scheduling Your Creditors
The creditor schedules must be filed with the court along with the initial bankruptcy petition. Three different schedules list creditors. Schedule D is for creditors holding secured claims -- those debts for which you've provided collateral, such as a home mortgage or car loan. Schedule E is for creditors holding unsecured priority claims, such as child support, court expenses and employee wages, which take precedence over non-priority claims. Finally, Schedule F lists unsecured, non-priority claims, such as credit card debt.
Adding a Creditor
If you've left off a creditor, you can add that party by filing an amended schedule with the court. Your attorney can draw up and sign this document as your representative, but the bankruptcy court of the Southern District of Florida also requires that you sign a separate form known as the Declaration Concerning Debtor's Schedules. The amendment must include the bankruptcy case number and your full name as the debtor, as well as the venue, or name of the court handling the case. You can indicate one creditor or multiple additional creditors on the amendment, which serves as the revised complete schedule of creditors.
Chapter 13 Repayment
The creditor schedules used in Florida bankruptcy court are the same as both Chapter 7 and Chapter 13 cases, and the amendment process is the same. When you file for Chapter 13, the court appoints a trustee to draw up a repayment plan, which allows you to return a portion of your debts to your creditors. If you have already begun making payments, the trustee will add the new creditor to the repayment plan, and may adjust the amount of your monthly payment, as well. Florida requires payments to begin within 30 days of filing the initial petition.
Additional Forms and Fees
In the Florida bankruptcy court, you also must submit Form LF-4, Notice of Compliance with Requirements for Amending Creditor Information. Form LF-4 accompanies any change to the original creditor schedule filed with the bankruptcy petition. This could include deleting a creditor or changing the amount or nature of a debt. The court requires a filing fee when submitting an amendment to creditor schedules. In addition, you must serve the amendment and other paperwork on both the new creditor and the bankruptcy trustee.