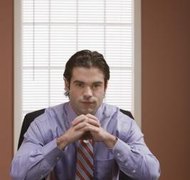 The limited liability company, or LLC, offers a host of advantages to the small business owner. Limited liability protects the owner's assets in the event of a civil lawsuit against the company, and flexibility in tax treatment allows the owner to determine what tax filing form is best for the business.
Decide Whether or Not to Form an LLC
While the LLC is a popular business form, it isn't necessarily right for everyone. A sole proprietor with no employees, for example, will realize no benefit from forming an LLC. In most states, corporate officers are liable in their individual capacities for torts that they commit in the course of business, so the limited liability function will not protect the sole proprietor's assets in the event of a civil suit. Even multiple owners with dozens of employees may not wish to form an LLC; incorporation brings a higher level of credibility to the business and the company can more easily raise capital through the sale of stock.
Consult With Professionals
Entrepreneurs getting a business up and running may find themselves strapped for cash, but one area where no one can afford to cut corners is legal and accounting advice. Despite the easy availability of LLC-related forms on the Internet, prospective members should at least consult with an experienced business attorney licensed to practice in their state before forming their LLC, even if they intend to do the formation work themselves. Members should also retain a certified public accountant to handle their tax work; flexibility in terms of how an LLC can file taxes creates the potential for making expensive mistakes.
Have a Solid Operating Agreement
Although not every state requires the members of an LLC to have an operating agreement, drafting and executing one makes good business sense. This document establishes the understandings of the parties as to how they will manage the business, how they will handle capital contributions and how they will add and remove members. The courthouses of every state are filled with expensive lawsuits that began with a handshake deal among friends who believed they could agree upon everything and would never come to blows; getting everything in writing at the outset limits the opportunity for future disagreements that could destroy the business.
Draft Broad Articles of Organization
The articles of organization, the LLC equivalent of a corporate charter, establish the existence of the LLC as a separate entity and contain key information about the company to satisfy state law. One critical piece of information in the articles is a description of what the business is organized to do. Being too specific in this section can create problems later on if members decide to expand the business or alter its activities. Operating outside the business description can endanger the limited liability function of the LLC in a lawsuit. Members should consider a general description of their business such as "to engage in any lawful activity" in order to preserve maximum flexibility.