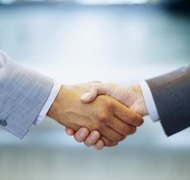 The State of Washington allows many types of business structures, including profit corporations, nonprofit corporations, limited liability companies, limited partnerships and limited liability partnerships. To operate legally in Washington, these entities must properly register with the Washington Secretary of State by completing and filing the forms available on their website. If you need to amend these documents for your business, the website also has amendment forms. Filing fees are required with all amendments.
Registered Agent
Business entities are generally required to establish a registered agent, which is a designated person who resides in Washington and who can represent the business. For example, if someone wants to sue the business, this person would be the business representative who is served with the court paperwork. Though your registered agent is originally identified in your formation documents, you can change your agent by filing a Statement of Change with the Washington Secretary of State, instead of amending your formation documents.
Corporations
In Washington, corporations must file Articles of Amendment to make changes to their Articles of Incorporation. The corporation must provide information such as the date it adopted the amendments, the date the amendments are to become effective, and whether or not the amendments were adopted by shareholders, the Board of Directors or incorporators. The actual text of all amendments must also be included. The Articles of Amendment must be signed by a corporate officer or chairman of the board, except for certain limited circumstances when an incorporator may sign.
Limited Liability Company
Limited Liability Companies in Washington must file an Amended Certificate of Formation with the Secretary of State to make changes to their Certificate of Formation. Like corporate Articles of Amendment, the amended certificate must contain the name of the company and the exact amendments to the original formation documents. It must be signed by a member or manager. However, this form cannot be used to change the names of members, managers or the principal place of business.
Limited Partnerships and Limited Liability Partnerships
Limited Partnerships must file an amendment to their Certificate of Limited Partnership if they admit a new general partner, remove an existing general partner or appoint someone to wind up the partnership. The form for an Amended Certificate of Limited Partnership, which must be signed by a general partner, is available on the Secretary of State's website. To make amendments to a Limited Liability Partnership, the partnership must file a Limited Liability Partnership Notice, which can combine the required annual report and the amendments in the same document.