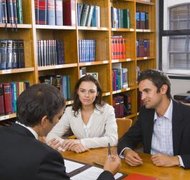 If you are no longer able to manage your debts or prevent creditor seizures of your property, you can turn to the bankruptcy option. Federal and state laws govern bankruptcy; each state sets the rules on property exempt from seizure, and has a local median income level used in the Chapter 7 means test. In Arizona, all bankruptcy cases pass through the federal bankruptcy court for the Arizona district, which has offices in Phoenix, Tucson, Yuma, Prescott and Flagstaff.
Means Test
By a federal bankruptcy reform law passed by Congress in 2005, everyone filing for Chapter 7 bankruptcy protection must pass a means test. You follow federal guidelines on the means test, but apply state median income to the formula. If your net monthly income is less than the state median income, you may file Chapter 7; if not, then you submit to another calculation to determine eligibility. Median income changes regularly; in Arizona, the annual figure reached $55,654 for a family of four in April, 2013. If you don't pass the means test, you can file a Chapter 13 bankruptcy.
State Law Exemptions
You can protect exempt property from seizure and liquidation by a bankruptcy trustee, who uses the proceeds to pay your creditors. Some states -- but not Arizona -- allow bankruptcy filers to choose exemptions set out in federal law. In Arizona, all bankruptcy debtors must use the state schedule.
Doubling Exemption
Arizona law allows married couples to double the exemption amounts for certain property, including vehicles and household items. However, the homestead exemption -- $150,000 as of 2013 -- is the same whether you are an individual or a married couple. This means you and your spouse can protect up to $150,000 of equity you have in your principal place of residence. The law also allows an exemption of up to $5,000 of equity in a vehicle; the exemption amount doubles for the elderly or disabled.
Wages, Benefits and Support
Arizona also allows an exemption for wages up to 25 percent of disposable earnings or any earnings of more than 30 times the federal minimum wage, whichever is less. Unemployment and workers' compensation benefits are also exempt. In Arizona, these exemption amounts can be modified if the debtor is subject to a child support enforcement order.