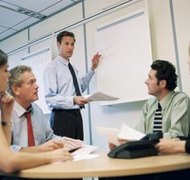 A limited partnership is a type of partnership in which partners enjoy the same limited liability as corporate shareholders. Arkansas limited partnership law is based on the Revised Uniform Limited Partnership Act, a model law that has been enacted by many states in an attempt to harmonize state partnership law throughout the United States.
Formation
To form a limited partnership, you must file a Certificate of Limited Partnership with the Arkansas Secretary of State. The name of a limited partnership must be unique and must contain the words "limited partnership" or the suffix "L.P." or "LP." The Certificate of Limited Partnership must list the partnership's legal name; the street and mailing address for its initial designated office; the name, street address and mailing address of the partnership's initial agent for acceptance of official correspondence; and the names, street addresses and mailing addresses of each general partner. Each general partner must sign the certificate, and a filing fee is required.
General and Limited Partners
An Arkansas limited partnership must include at least one general partner and one limited partner. A general partner can be held personally liable for partnership debts. A limited partner's liability for partnership debts, by contrast, is limited to the amount of his investment in the partnership. Unlike a general partner, a limited partner may not legally obligate the partnership through his actions: he cannot bind the partnership to a contract, for example, by signing a contract in the name of the partnership.
Contributions and Distributions
The contribution of either a general or a limited partner to the partnership under Arkansas laws may take the form of money, services, property, or promises to contribute money, services or property. Partners are entitled to distributions from the partnership in proportion to the value of their contributions, as determined in writing by the partnership at the time the contribution was made. If the partnership has executed a partnership agreement, it may not make distributions in violation of the agreement.
Dissolution and Winding Up
A limited partnership may dissolve if an event of dissolution specified in the partnership agreement occurs; upon the consent of the partners; or upon the departure from the partnership of the last general partner or the last limited partner. The Arkansas Secretary of State may dissolve a partnership for a number of reasons, including failure to pay taxes. A partner may apply for a court order dissolving the partnership if the partnership cannot operate in accordance with the partnership agreement. After dissolution, the partnership must cease carrying out its business activities and pay its creditors. Only after creditors have been satisfied may the partnership make distributions to the partners.