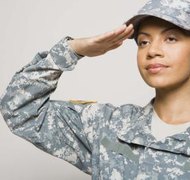 Alaska law governs divorces that are filed in the state, but military divorces have special issues; thus, they are governed by a combination of both federal and state laws. Army spouses have certain exclusive rights, and military divorces are not uncommon in Alaska given the large number of military installations in the state.
Grounds and Residency
Alaska allows servicemembers to file for divorce when they have been continuously stationed in Alaska for at least 30 days. An Alaska court must have a reason, or grounds, on which to base the divorce; Alaska offers both fault and no-fault grounds. Alaska's no-fault ground for divorce is "incompatibility of temperament." Fault grounds include adultery, conviction of a felony crime, personal indignities, alcohol abuse and drug addiction. If a wife files for divorce on fault grounds, she must be able to prove her spouse's misconduct.
Soldier's Responsibilities
Unlike civilians, soldiers are required to provide certain support to their spouses, even while they are separated or have a divorce case pending. Army Regulation 608-99 requires a soldier who is deployed, even with a divorce pending, to maintain contact with his family members so he can address their financial needs. The Army does not want the needs of the soldier's family to become burdens on the military system as a result of the soldier's failure to properly care for his family. This regulation requires soldiers to provide adequate financial support for their family members in accordance with the regulation's guidelines.
Property Division and Alimony
Alaska courts divide marital property in a divorce and can address alimony, or spousal support, when a spouse requests it. Spousal support is uncommon in Alaska divorces, though it is possible. Often, Alaska courts prefer to distribute property in a way that avoids the need for spousal support. Federal law determines a military spouse's post-divorce rights with respect to health care and other benefits; however, these benefits are typically unavailable if spouses were not married for at least 20 years, during which time the soldier engaged in military service for at least 20 years. Federal law also allows state courts to distribute military retirement benefits as property during a divorce, so Alaska courts can split a soldier's retirement benefits -- current or future – as part of the property division during divorce.
Payment
A former military spouse can have money directly withdrawn from the soldier's pay under certain circumstances. For example, if the court's child support order provides for income withholding, meaning child support is to be taken out of the noncustodial parent's paycheck, the Defense Finance and Accounting Service can withdraw child support from the soldier's paycheck and send it directly to the state for distribution to the custodial parent. Under the Uniformed Services Former Spouses Protection Act, an ex-spouse of a military member can have her share of the military member's retirement pay sent directly to her from DFAS if she was married to the military member for at least 10 years and the military member served for at least 10 years during the marriage.