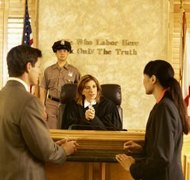 Bankruptcy allows you protection from creditors and a fresh financial start. In a Chapter 7 proceeding, you surrender non-exempt assets to a trustee, and the court ends the case with a cancellation of your remaining debts that are dischargeable under the law. In a Chapter 13 bankruptcy case, you set up a repayment plan in which you pay some or all of your debts. Under certain circumstances, it may be to your advantage to convert a Chapter 7 case to a Chapter 13 case, which the law allows with some conditions.
Motion to Convert
While a Chapter 7 case is still open, you can request a conversion to Chapter 13 by filing a motion with the bankruptcy court. In general, the court will grant a conversion on motion of the debtor, although creditors may object. If the court finds that you are acting in bad faith -- for example, requesting a conversion knowing you can't meet a Chapter 13 repayment plan -- it can deny the motion and keep you in Chapter 7. Also, you may not convert to Chapter 13 if your debts exceed the statutory limit for Chapter 13 cases which, as of April 1, 2013, is set at $383,175 for unsecured debt and $1,149,525 for secured debt.
Avoiding Seizures and Foreclosures
Since Chapter 13 does not involve seizure of your assets, a conversion from a Chapter 7 case may allow you to keep non-exempt property, such as jewelry, a second car or cash in a savings account. You may also avoid foreclosure on your home or repossession of a boat or other property with a secured loan in arrears. In a Chapter 7 bankruptcy, you would have to reaffirm a secured loan in order to keep the property; in a Chapter 13 proceeding, you are free to work out repayment with the lender on better terms, outside of the bankruptcy repayment plan.
Cramming Down Loans
A conversion to Chapter 13 can also allow you to reduce the outstanding amount on certain kinds of loans. If a mortgage loan exceeds the value of your house, the court can allow second liens to be stripped, leaving you with only a single loan to pay and leaving "junior" creditors out of the repayment plan altogether. You can also "cram down" a car loan balance that exceeds the value of your car. If you're upside down on the car loan, this adjustment in the outstanding amount can help you get it paid off faster.
Income Requirement
When you move to convert to a Chapter 13 bankruptcy, you must demonstrate that you have enough disposable income to meet a repayment schedule. Typically, Chapter 13 requires that you repay 20 to 30 percent of your debts over a period of three to five years. This will mean making a monthly payment to the trustee that will represent a significant portion of your income; the court retains the right to dismiss the Chapter 13 case if you fail to make the payments. If you have no employment and no income, the court will not allow the conversion.