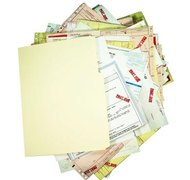 The creditor index goes by several names: creditor index, creditor matrix and even simply, the creditor list. In all bankruptcy proceedings, this important document is an attachment that you must include with the bankruptcy petition. Its purpose is to provide the court with important information about the debtor's creditors and debts.
Purpose of the Creditor Index
The creditor index is used to provide notice of the debtor's bankruptcy case to each lender or creditor that the bankruptcy might impact. The debtor must accurately list the name and address of each creditor and lender, and make a good-faith effort to accurately list the amount of each debt, although perfect accuracy is not required.
Uses for the Creditor Index
The creditor index is used to provide notice of the bankruptcy to all creditors, but it is also used to provide other notices throughout the bankruptcy proceedings, such as notice of creditors' meetings. If, however, a creditor's name or address is improperly listed, and the creditor does not receive actual notice of the bankruptcy, the debt may not be discharged when the bankruptcy is completed.
Preparing the Creditor Index
The debtor, on his own or through legal counsel, is required to prepare the creditor index to include with the bankruptcy petition. This includes preparing three itemized lists of secured creditors, priority creditors and creditors holding basic unsecured debt. An online legal document preparation service can assist you with creating and preparing the creditor index.
Common Misconceptions
Bankruptcy debtors often believe that it is wise to keep a credit card or other debt out of the bankruptcy to use to rebuild their credit after discharge. For this reason, debtors often omit a credit card lender or other creditor from the creditor index. This strategy, however, is a direct violation of the bankruptcy laws -- the debtor is legally required to list all creditors, even if he intends to continue paying or working with a creditor after bankruptcy.
Photo Credits
Brand X Pictures/Brand X Pictures/Getty Images