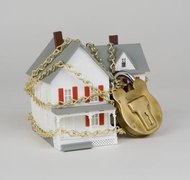 During tough economic times or unexpected financial hardship, people often seek financial relief by filing for bankruptcy. Since bankruptcy is governed by federal laws, Idaho's bankruptcy process is similar to the process followed in other states. But, when it comes to protecting property against seizure by the bankruptcy trustee, Idaho law applies. Idaho enables debtors to protect all or some of their property -- everything from homes, cars and household items to life insurance proceeds and pension benefits.
Chapter 7
Typically, when Idaho residents file for bankruptcy, they file for Chapter 7 or Chapter 13 of the U.S. Bankruptcy Code. In a Chapter 7 bankruptcy proceeding, known as liquidation, the debtor gives up all nonexempt assets to the bankruptcy trustee assigned to his case. These surrendered assets create the debtor's bankruptcy estate. The bankruptcy trustee takes this property and liquidates it to pay the debtor's creditors. If any debts remain unpaid, they are discharged and the debtor is no longer liable for them.
Chapter 13
When Idaho residents file for Chapter 13 bankruptcy, they are not required to give up any property. Instead, debtors enter into a repayment plan that lasts from three to five years. Plan payments are based on the debtor's available disposable income, as determined by the bankruptcy trustee. Chapter 13 is commonly used by debtors who wish to save their home from foreclosure or their cars from repossession. It is also used by debtors who do not qualify for Chapter 7, often due to higher incomes. Some unsecured debts may remain unpaid at the completion of the Chapter 13 repayment plan, and these can be discharged to extinguish the debtor's liability.
Stay on Debt Collection
Once a debtor files for bankruptcy in Idaho, an automatic stay goes into effect as required by the U.S. Bankruptcy Code. This means creditors are prohibited from contacting the debtor and engaging in collection activities while the bankruptcy case is pending. In the case of Chapter 7 proceedings, the stay lasts until the debtor's assets are liquidated and a discharge is entered, usually a few months. With Chapter 13 cases, the stay ends at the conclusion of the repayment plan and subsequent discharge. Occasionally, bankruptcy courts will limit or deny a debtor's right to a stay. Under federal law, if a debtor previously filed for bankruptcy within a one-year period, the stay is limited to 30 days. If the debtor filed two or more cases in the past year, an automatic stay is not granted at all.
Exemptions
The purpose of bankruptcy is to get a fresh financial start. To make that possible, the U.S. Bankruptcy Code allows debtors to protect certain categories of property, up to a certain value, from seizure in Chapter 7 bankruptcy cases. These exemptions are available under federal and state laws. While some states allow debtors to choose between taking either federal or state exemptions, Idaho does not. This means Idaho residents can only use state exemptions to protect certain assets, as established by Idaho statutes. For example, Idaho law permits residents to exempt their residence, up to $100,000 in value, and vehicles up to $7,000 in value. Since Chapter 13 involves a repayment plan rather than the forfeiture of assets, a debtor can use Idaho exemptions only to reduce the amount of available income used to calculate the plan's monthly payments.