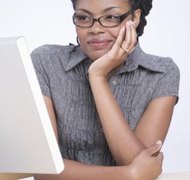 Incorporating your business is an option that allows you to create a legal separation between you and your business. As a sole proprietor, debts of the company are your debts. When you make the decision to incorporate, you don't bear personal liability for corporate debts, unless you grant personal liability. In South Dakota, the secretary of state handles corporate registrations and accepts the formation paperwork.
Step 1
Select a name for your corporation under which you intend to do business. Corporate entities that conduct business in South Dakota under any name other than their corporate names are required to register their fictitious business names. You can search the state's registered name database and register your fictitious business name on the South Dakota Secretary of State website (please see reference 1).
Step 2
Select a registered agent for your company. The registered agent is the person or entity that accepts official communication for your corporation. The registered agent must have a physical address in South Dakota. If you want a commercial registered agent to serve on your behalf, the South Dakota Secretary of State lists a number of options (please see reference 2).
Step 3
Create the articles of incorporation for your corporation based on the form available from the South Dakota Secretary of State's website (please see reference 3). The articles must include the name and address of your corporation, the number shares the corporation can issue, the registered agent of the corporation and the name, address and signature of each incorporator. You can fill out the form online and then print it out.
Step 4
Mail the completed form, along with a photocopy of the form and the registration fee to the South Dakota Secretary of State, 500 E Capitol Ave, Pierre, SD 57501, to complete the registration process.
Tips & Warnings
If you are forming a nonprofit corporation, you should complete the articles of incorporation for a nonprofit corporation instead of for a for-profit corporation (please see reference 4).
Photo Credits
Jack Hollingsworth/Photodisc/Getty Images