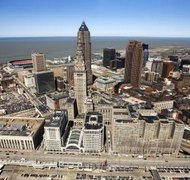 Doing business as a corporation protects your personal assets from being taken to pay the company's debts or liabilities. If you want to be incorporated anywhere in Ohio, including Cleveland, you must register with the Ohio Secretary of State. Cleveland does not have a separate incorporation requirement.
Naming Your Corporation
Before you can incorporate, you need make sure that the name you want for your business complies with the Ohio rules and that it is not already taken. Your name must be unique and not overly similar to an existing business. In addition, your name must include "Corporation," "Incorporated," "Company" or the abbreviated equivalent of "Corp.," "Inc." or "Co." The Ohio Secretary of State maintains a database of all names so you can see if your name is already taken.
Articles of Incorporation
All corporations registering in Ohio must submit the company's articles of incorporation. The default form is Ohio Form 532. Your articles of incorporation must contain the corporate name, where the company's principal office is located, how many shares the company is authorized to issue and the company's registered agent. In the articles, you can include additional information including the corporate purpose, the term of the corporation (if it is left bank the corporation will exist in perpetuity), and name and contact information for the company's directors. In addition, you can specify that date on which the corporation starts. If you don't specify a date, the corporation starts the day the filing is approved.
Where to File
The Ohio Secretary of State permits you to register your corporation in person or through the mail. To apply in person, bring your articles of incorporation to the Ohio Secretary of State Client Service Center, located at 180 East Broad Street, Suite 103, Columbus OH 43215. If you prefer to save on gas and travel time, mail in your application to the Ohio Secretary of State, P.O. Box 670, Columbus, OH 43216. When filing, include the filing fee. As of 2012, the fee is $125 as long as you do not issue more than 1,500 shares. If you issue more, the price increases.
Expedited Filing Options
The Ohio Secretary of State offers a few ways you can expedite your incorporation filing. If you need approval within two days, you have to both complete Form 532 and Form 593 as well as pay an additional $100 processing fee. Send these expedited processing requests to P.O. Box 1390, Columbus, OH 43216. For a decision within one business day, the fee increases to $200. If you need the decision within four hours, you must pay an extra $300. For the two fastest methods, you need to apply in person.