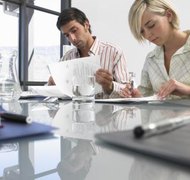 If your charitable organization, church, or private foundation exists for what the IRS deems "exempt purposes," you may be able to register as a nonprofit, or tax-exempt entity. Exempt purposes include helping the underprivileged, protecting the rights of children or animals, and "advancement of religion." Nonprofit entities do not have to pay federal income tax, and they can accept tax-deductible contributions from the public. However, they are limited with respect to political or lobbying activities.
Step 1
Familiarize yourself with filing deadlines.The IRS explains that you should typically file for exempt status no later than the 15th month after your organization was created. You can apply for one 12-month extension. This deadline applies to you if your organization is not a private foundation and your gross receipts are in excess of $5,000.
Step 2
Obtain an Employer Identification Number for your nonprofit entity. This should be done when launching your nonprofit, and it can be done online. An EIN identifies your nonprofit entity for tax filing purposes.
Step 3
Complete IRS Form 1023, as well as IRS Forms 2848 and 8821 if applicable. Form 1023 is the application for tax-exempt status, and it must be mailed to the IRS for review by a tax specialist. If you wish to designate someone other than your organization's director to answer questions that the IRS has about the application, you should submit a Power of Attorney form -- IRS Form 2848. An additional form -- 8821 -- is used to give the IRS permission to provide information about your application to someone other than your organization's director.
Step 4
Pay the required filing fees. The IRS explains that applications for tax-exempt status are not processed until user fees are paid. These fees vary depending on the amount of gross receipts accrued by your nonprofit entity.
Tips & Warnings
The IRS has a micro website, Stay Exempt, where you can access a free virtual workshop and mini-courses that cover topics such as charitable contributions and applying for tax-exempt status.

Once you file the appropriate forms, you are free to operate as a tax-exempt nonprofit entity while your application is pending.
Photo Credits
John Rowley/Digital Vision/Getty Images