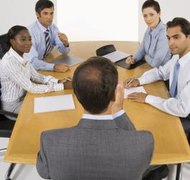 A nonprofit organization receives special tax exemptions from the government. There are a variety of nonprofit categories, and to qualify, an entity must meet the requirements outlined in the category in which they are requesting nonprofit status. An established business interested in moving from for-profit to nonprofit status must modify or terminate its existing category before applying to become part of the other.
Dissolve or Augment Incorporation Status
When a business incorporates, it receives an employer identification number by which it is identified. Certain tax implications exist for each different form of incorporation. In order to transition from being a for-profit to a nonprofit organization, a business has the option of dissolving its existing state of incorporation and existing EIN and reapplying for nonprofit incorporation status and new EIN, or developing a separate nonprofit entity under the existing business name. An example of the latter is a corporation that develops a separate charitable giving program that holds its own nonprofit designation.
Identify Nonprofit Category
To apply for nonprofit status, a business must ensure that its missions, goals and objectives meet the requirements outlined by the nonprofit category of its choice. The U.S. Internal Revenue Service is the governing body that determines requirements for nonprofit categories. Categories include trade organizations, social welfare groups, agricultural and farming organizations, social clubs, fraternal organizations, employee benefit groups and some political organizations.
Apply for Nonprofit Status
The nonprofit application process requires different requirements for each nonprofit category identified by the IRS. For best results, use government resources provided by the IRS or the Small Business Administration or seek professional assistance from an organization such as LegalZoom to complete your application.
Prepare for Fundraising
Most nonprofit organizations are financially dependent on grants, which is a form of funding that can be applied for through a variety of public, private and government sources. Part of the fundraising process involves meeting with funding decision-making boards and elaborating on statements made in your grant proposal. To effectively answer these questions, come prepared with precise details about the scope of your programs and services, information on the demographics you plan to serve and a detailed description on how the requested funding will be used. Also be prepared to describe your approach for setting goals and measuring whether objectives have been met.