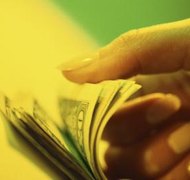 The bankruptcy code rules that some debts are non-dischargeable because allowing a debtor to avoid paying them goes against public policy. Child support is one of these debts. Not only is it non-dischargeable, but it's immune to bankruptcy's automatic stay, which goes into effect once you file for bankruptcy and prohibits most creditors from continuing with collection activities. Child support enforcement measures may continue even after you file for bankruptcy protection.
Your Bankruptcy Estate
Chapter 7 is the proceeding that allows the trustee to sell your non-exempt property to pay off your debts. All property you own at the time you file is part of your bankruptcy estate, subject to sale by the trustee. If you owe past due child support, your ex cannot reach these assets by filing for child support enforcement in family court, but she can make a claim against your estate for payment as part of your chapter 7 proceeding. Anything you acquire after the date you file for chapter 7 -- including your income -- is generally not part of your bankruptcy estate. Your ex can begin a lawsuit to collect from these assets, regardless of the stay.
Chapter 13
When you file for chapter 13 protection, you enter into a plan to pay your debts off with your disposable income. If you owe past due child support, it is included in your chapter 13 payment plan. Your ex will receive payment, so there's typically no need for her to ask the court to take enforcement action.