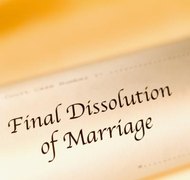 Divorce is a court process in which a judge dissolves the legal bonds of marriage and sets terms for the divorcing couple, such as child custody arrangements, property division and alimony. Mediation helps the couple reach agreement on these terms, but a mediator cannot legally divorce the couple.
Purpose of Mediation
Mediation helps the divorcing couple reach agreement on the terms of the divorce. This allows the spouses to retain control over their divorce's terms rather than rely on a judge to figure out the best solution for each spouse. Divorce mediation often involves several sessions in which the mediator may meet with the spouses together or separately. The mediator discusses the terms in detail, helping the spouses find areas in which they agree. At the end of the mediation process, the mediator prepares a written memorandum of agreement to document the areas where the spouses agree.
Court Approval
Couples may use their mediation agreement to create a marital settlement agreement as an attachment to their divorce petition. The spouses must take the agreement to the court, along with any other required divorce paperwork, for approval. A divorce is not final until a judge signs the divorce decree and dissolves the marriage. Typically, judges adopt the spouses' proposed marital settlement agreement as long as the agreement is in the best interests of the children and is not obviously unfair to either party.
Photo Credits
Stockbyte/Stockbyte/Getty Images