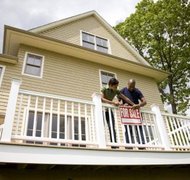 If you are delinquent on your mortgage payments and have been served a notice of foreclosure, you may be on the verge of giving up hope to stay in your home. Filing for Chapter 13 bankruptcy can protect you against foreclosure, even if formal legal action is already under way.
Foreclosure
The mortgage you owe on your home is a debt secured by the house itself. If you fail to meet your repayment obligations, the lender can begin legal action to foreclose on your home and forcibly evict you. If the court finds in favor of the creditor, your home will be sold at public auction with all proceeds being collected by the bank. To make matters worse, the bank could still file suit against you for the remainder of the mortgage debt and any legal fees if the auction does not cover your outstanding mortgage balance.
Chapter 13 Bankruptcy
Chapter 13 of the Bankruptcy Code allows you to reorganize all of your debt, including your mortgage, into a three to five year repayment plan that is supervised by a court-appointed trustee. All payments under the bankruptcy plan are made to the trustee, who distributes the funds to your creditors and acts as an intermediary between you and your creditors.
Automatic Stay
The moment you file your bankruptcy petition with the U.S. Bankruptcy Court an automatic stay is in effect that shields you from any collection actions by your creditors. This automatic stay immediately halts any foreclosure efforts and is intended to allow you to catch up on your mortgage payments. The stay prohibits the lender from sending late payment notices, engaging in collection calls, filing foreclosure lawsuits, and evicting you from your home. The Chapter 13 automatic stay may be effective in keeping you in your home at any stage of foreclosure up until auction. Once the home is sold at auction, Chapter 13 bankruptcy does not reverse the sale.
Discharge
Upon the successful completion of the bankruptcy repayment plan, all eligible outstanding debts owed at the time of filing your petition are forgiven. Therefore, a discharge under Chapter 13 typically forgives any remaining mortgage payments and fees owed prior to the filing of your bankruptcy petition that remain unpaid, but it does not forgive the outstanding amount owed on the mortgage. You will continue to be responsible for your mortgage payments after your bankruptcy is concluded until you pay off the balance.