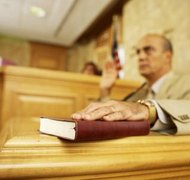 When you divorce your spouse, there are several steps you must complete before the court will issue your divorce decree. These steps range from filing the petition for divorce with the court and serving your spouse with a copy to participating in settlement negotiations and hearings before the court, if necessary. If a hearing is held, it may be necessary to call witnesses to help shed light on the facts of your case. Whether any of these witnesses are undocumented is usually irrelevant.
Relevance of Witness Testimony
When a divorce is contested, meaning spouses are unable to agree on some or all marital issues, the court will typically hold a hearing. At this hearing, both sides present their arguments and evidence. Spouses sometimes call witnesses to testify in support of their cases. For example, a spouse asking for sole custody of the children may have a neighbor testify about hearing and seeing the other spouse's drunken fits. Although state laws vary, courts are usually only concerned about the relevance of a witness's testimony, not whether the witness is a U.S. citizen. Therefore, both documented and undocumented witnesses can usually testify as long as their testimonies deal with an issue before the court.