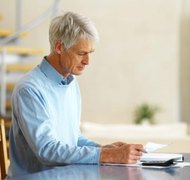 A living trust is an agreement in which you transfer your assets into the ownership of the trust. You can retain control of those assets by naming yourself as trustee until your death, at which time a successor trustee takes over and distributes your assets to your beneficiaries. While you cannot transfer debt into a living trust, creditors might be able to reach the assets in the trust during your lifetime and after your death.
Create an affordable will with LegalZoom
Creditor Access
Whether or not your creditors may be able to access your trust assets depends on your level of involvement in the trust's management. If you named yourself as trustee of your living trust, while you retain control of the assets, you have little protection from creditors. Upon your death, your successor trustee may be responsible for paying your debts before distributing the trust assets. If you owe more than the value of the trust assets, your beneficiaries may get nothing from the trust.
Last Wills
Photo Credits
George Doyle/Stockbyte/Getty Images