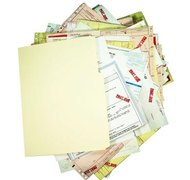 Individuals or businesses who are overwhelmed with debt might find a solution and a fresh financial start through the federal bankruptcy laws. The U.S. Constitution places bankruptcy exclusively under federal law and the jurisdiction of the federal bankruptcy courts. The Bankruptcy Code includes several types of bankruptcy proceedings that get their names from different sections of the Code. The three most common types of bankruptcies are Chapter 7, Chapter 13 and Chapter 11.
Overview
Because bankruptcy cases often cross state lines with a debtor's creditors and assets being in more than one state, they are governed exclusively by the federal Bankruptcy Code and are heard in federal courts. Cases are usually begun by the filing of a petition seeking relief from debts by an individual or business. In certain situations involving businesses, creditors can force the business into bankruptcy. Bankruptcy cases are heard in a federal bankruptcy court presided over by a bankruptcy judge. Filing a bankruptcy petition results in an automatic stay of all collection proceedings, including foreclosure, wage garnishment and asset seizure pending the conclusion of the bankruptcy.
Chapter 7 Means Test
The most common form of bankruptcy is the liquidation under Chapter 7 of the Bankruptcy Code that is available to individuals, partnerships or corporations. Individuals must pass a means test to be eligible to file under Chapter 7. Ineligible debtors are those whose monthly income after allowable expenses is more than either $11,725 or at least $7,025 if it represents 25 percent of the debtor's unsecured debt. An individual debtor whose income exceeds the allowable income can still file under Chapter 13.
Chapter 7 Bankruptcy
Eligible Chapter 7 debtors must file a petition with the bankruptcy court disclosing assets and liabilities, current income and expenses, and additional information about their financial affairs. A trustee is appointed by the bankruptcy court to take control of the assets and convert them into cash to be paid to creditors. Debtors are allowed to retain certain personal or household assets that are protected from creditors by the Bankruptcy Code and the state law where the debtor resides. A Chapter 7 bankruptcy concludes with the bankruptcy petitioner's debts being discharged. Debtors are no longer personally responsible for debts that are discharged by the bankruptcy court.
Chapter 13 Bankruptcy
Unlike a Chapter 7 in which a debtor's nonexempt assets are sold to satisfy creditors, a Chapter 13 allows a debtor to retain ownership of her assets, including her house. A Chapter 13 debtor files a proposed plan to pay creditors over a three to five-year period with affordable monthly payments. As long as payments are made according to the terms of the plan, creditors are prohibited from starting or continuing any debt collection efforts. Monthly payments are paid to the bankruptcy trustee who distributes the money to the creditors according to the court-approved plan. A debtor is discharged from personal liability for all debts remaining after completion of payments according to the plan. For example, some creditors under the plan may not have been paid the full amount of the original debt. The unpaid balance remaining at the end of the plan would be discharged.
Chapter 11 Bankruptcy
A Chapter 11 bankruptcy is frequently referred to as a reorganization. Its purpose is to permit a corporation, partnership or other business entity to obtain relief from collection efforts by creditors while the debtor continues to operate its business. The bankruptcy court trustee does not play an active role. Instead, the debtor continues to operate its business, charged with the duty to account to the court for all income and assets while the business is in bankruptcy. A Chapter 11 debtor must present a plan to pay creditors and emerge from the protection of the bankruptcy court. Unlike a Chapter 13 plan that is approved by the bankruptcy court, Chapter 11 plans must first be approved by a majority vote of the creditors before it is submitted for court approval. If a plan is not presented by the debtor or is not approved by the creditors, the proceeding can be converted to a Chapter 7.
Photo Credits
Brand X Pictures/Brand X Pictures/Getty Images