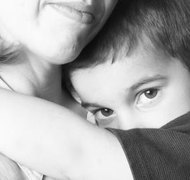 A legal guardian of an adult or child ward has tremendous duties and responsibilities. A guardian is responsible for his ward's physical and mental well-being and her personal needs. He may manage his ward's finances — if the court gave him that authority — and make major decisions for the ward. The obligation and scope of a legal guardianship might create obstacles for the guardian as he cares for his ward.
Create an affordable will with LegalZoom
Responsibilities
A guardian's main duty is to care for, and protect, the ward. Depending on the ward's needs, the guardian may have to attend to the ward's care every day. The amount of time a guardian must devote to a ward is a significant consideration during court appointment. The court will consider that a ward's needs may change. For example, a guardian might go from having monthly duties in caring for his ward to having daily tasks relating to the ward. A guardian might also have to go against the ward's own wishes to properly care for her, which is often more difficult for the guardian if the two are related. For example, an adult child who is the guardian of his incompetent mother is responsible for her living arrangements. He may have to place his mother in an assisted living facility to ensure her safety, even though she doesn't want to move from the family home. Although she has the right to express her desire to stay in the family home, the final decision rests with her guardian.
Family Members
Whether a guardian is related to a ward or independently appointed by the court, he must deal with, and consider, the wishes of other family members regarding the ward's care. Family members may have different ideas about the most appropriate care plan and services for the ward; this makes a guardian's role more difficult. Although the guardian has the final say on most matters concerning the ward, other family members have a right to speak to the guardian about the ward and voice their concerns. If family members don't agree with the guardian's plan for the ward, they may challenge the guardian and his decisions in court.
Legal Issues
Guardianship laws are designed to protect the ward while giving the guardian the power to care for her; these laws are often complex and vary by state. A guardian is responsible for knowing the court's requirements for filing reports and must file those reports with the court. For example, a guardian who handles a ward's finances must file an account showing all the ward's income and asset activities once a year in Texas. The guardian is also responsible for knowing any limits on his powers and what he can and can't do without a court order, as specified in state laws or by the judge. For example, in Texas, a guardian can't place a ward in an in-patient psychiatric facility without a court order.
Considerations
A guardian responsible for his ward's finances is responsible for paying his ward's bills, making his ward's living arrangements, overseeing his ward's medical treatment, and, in the case of a minor ward, ensuring that she receives a good education. Whenever possible, a guardian must cover expenses from his ward's income. If the ward's income doesn't cover all the ward's expenses, the guardian may have to liquidate some or all of his ward's assets. A guardian may not be able to sell the ward's assets without a court order, even if the money is needed immediately.
Last Wills
Photo Credits
Hemera Technologies/AbleStock.com/Getty Images