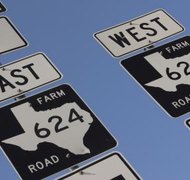 A professional limited liability company in Texas is a limited liability company that engages in a professional activity, such as a law firm. To form an LLC in Texas, the organizers must file articles of organization with the Texas Secretary of State's office. The articles of organization include the guidelines that govern a company and contain basic information about the organization of the company, such as the registered agent and the registered office located within Texas. (Ref 2, 4)
Step 1
Review the company's articles of organization to determine the current name and contact information for the registered agent and the address of the registered office.
Step 2
Download Texas Form 401 from the Texas Secretary of State website.
Step 3
Enter information about the LLC, such as the legal name the business operates under in Texas, the registered agent and the current registered address with the state of Texas.
Step 4
Fill out Item 4, Section C on Form 401 to change the registered office address. The Texas Secretary of State requires that the statement of change note that the street address of the registered office is the same as the registered agent's business address.
Step 5
Execute the document by an individual authorized by the articles of organization to sign such instruments. Typically this is the person who manages the organization.
Step 6
Submit the filing fee with executed Form 401. The filing fee may be paid by check made payable to the Texas Secretary of State, money order, LegalEase debit card or credit card.
Step 7
File Form 401 with the Texas Secretary of State. The form should be completed in duplicate and mailed to P.O. Box 13697, Austin, Texas 78711-3697. Alternatively, you can have the duplicates and filing fee delivered by courier to the James Earl Rudder Office Building, 1019 Brazos, Austin, Texas 78701. The form may also be submitted electronically.
Tips & Warnings
The change will become effective when the Secretary of State accepts the Form 401.

In Texas, the registered office must be a street address at which the business can be served legal papers during normal business hours and will serve as the official address where correspondence will be sent from the Texas Secretary of State. The registered office is not required to be the LLC's principal place of business, but it must not be just a mailbox or answering service.

Businesses must update their registration with the Texas Secretary of State in the event of a registered office address change or risk their good standing in Texas.
Photo Credits
Hemera Technologies/AbleStock.com/Getty Images