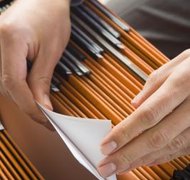 Whether you've married, divorced or you've legally changed your name for another reason, the change isn't completely official until you amend all your identification to match it. Unlike some states, Minnesota Driver and Vehicle Services does not require an updated Social Security card to change the name on your driver's license. However, other government and private agencies might, so it's usually a good idea to change the name on your Social Security card.
Step 1
Gather documentation to prove your old identity, as well as your new one. Your existing driver's license, Minnesota DVS identification card or your passport are acceptable forms of proof of your old name. You'll also need documentation confirming your new legal name. If you've married, this would be your marriage certificate. If you've divorced, use your decree. If you petitioned the court for a name change for another reason, the court order is acceptable. All these documents must be certified originals – the ones you received from the court. If you petitioned the court to change your name, you'll need one more document, something in addition to your name change order. For example, if you received a new school ID card or employee ID card after your name change, and if it is current, this would suffice. You can also use an updated voter's registration card.
Step 2
Access Form SS-5 from the Social Security Administration. You can call 1-800-772-1213 and Social Security will mail one to you. Alternatively, you can also stop by any Social Security office and request one. Form SS-5 is also available online as a PDF document from the Social Security Administration's website.
Step 3
Complete Form SS-5. If you accessed the PDF document from Social Security's website, you can type in your information and print out a completed copy. Form SS-5 is only one page, but it may appear intimidating at first, with numerous boxes to fill in and to check off. Use the first section to state the new name you want to appear on your card, as well as your given name at birth and any other names you've ever used. Section 2 asks for your existing Social Security number. Sections 3 through 5 ask for your date of birth, place of birth and your citizenship status. You don't have to complete Sections 6 and 7 if you don't want to; these refer to your race and ethnicity. Tell Social Security your sex in Section 8. Identify your mother in Section 9 and your father in Section 10. The remainder of the form includes a few questions about your existing Social Security card and your contact information, such as your current address and phone number.
Step 4
Take your completed Form SS-5 and the certified copies of your documentation to your local Social Security office. If you live in the greater Twin Cities metropolitan area, you must go to the Social Security Card Center at 1811 Chicago Avenue, Suite 2, in Minneapolis. You can also mail your form and documents to the Social Security Administration, but because you must provide certified copies of documents which you can't easily replace if lost, you might want to take them personally to the Social Security Card Center or office. An employee will review your documentation and authorize a new card, which you should receive in the mail within a week or so.
Tips & Warnings
After you've changed your Social Security card, let your employer know that you've done so. This will avoid confusion come tax time if your employer continues to submit tax information on your behalf associating your Social Security number with your old name.

If you've waited more than two years to change your name with Social Security, you'll need additional documentation to prove your identity and both your names. You might also need additional documentation if you're changing your name due to divorce, and your divorce decree does not specifically authorize a name change. Your decree must state both your married name and the name you're currently using. If your decree doesn't contain this information, speak to a family law attorney to find out how you can go about getting an additional order authorizing your name change after divorce, or call Social Security to find out what additional documentation you might be permitted to submit instead.
Photo Credits
Jupiterimages/Polka Dot/Getty Images