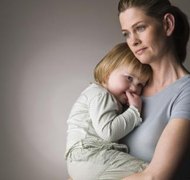 Whether you already have a support order or need one, Kansas has services available to most women in the state. You will need to open a child support case with the state before moving on to some other resources, such as private collectors, but you can establish your case at no charge to you using the state support office.
Kansas Child Support Services
Kansas Child Support Services, part of the Kansas Department for Children and Families, helps women get new child support orders and enforce or modify existing orders. The office also provides a locating service for missing noncustodial parents and helps identify their assets. If the paternity of the child is in question, you can receive free genetic testing services through the office. Women may receive services regardless of their income or residency status. The department's website has contact information for local support offices.
Kansas Legal Services
Kansas Legal Services is a nonprofit organization that provides free or low-cost legal assistance to income-eligible persons for various legal matters, including support issues. Women who need help with child support may call the agency with case details or complete an application online at its website. Income limits vary by case type and the guidelines your area office follows, so submitting an application before calling is encouraged. The agency contacts qualifying applicants after the application is reviewed.
Office of Child Support Enforcement
If you can't get the help you need from Kansas Child Support Services, you may contact the federal Office of Child Support Enforcement for help. You must have a case open through the state support agency first, according to the official website of the Office of Child Support Enforcement. You can email or write the office for help with your support issue, and you must include the names and state case number in your communication. The office's contact email and address are available on its official website.
Support Attorney
You can hire an attorney to help you with child support matters. The Lawyer Referral Service, run by the Kansas Bar Association, helps people connect with a licensed attorney who has experience with their case type. The bar association also has a search feature for licensed attorneys by case type available on its official website, which you may use to find a support attorney near you.
Private Collectors
Private support collectors work with clients to recover owed child support. Services and eligibility vary by collector, but collectors may work with you even after you're no longer eligible for state services if you're still owed support. Fees apply for private support collection and vary by provider. Check the service's business record and history with the Kansas Better Business Bureau and Kansas Department of Commerce before signing up for any private collection service.