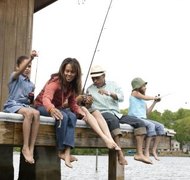 You can set up a living trust during your lifetime, putting your assets into the trust to be managed by you or another trustee. After your death, the trust documents determine what happens to the trust's assets. You can list your children as the trust's beneficiaries, but the trust cannot include guardianship provisions for minor children.
Assets and Inheritance
Like a will, your trust determines who inherits your property after your death. You can list your children as your beneficiaries in the trust documents so they will inherit the trust's assets after your death. You can structure your trust to distribute your assets to your children immediately after your death, or your successor trustee can manage the assets for the benefit of your children for some period of time. If your children are adults, you can appoint one or more of them to act as your successor trustees, managing the distribution of the assets.
Guardianship
Trusts can be structured to do almost anything regarding your assets, but they cannot address certain other aspects of your estate planning, including who should act as the guardian of your minor children should you die before they reach the age of majority. To name a guardian, you must use a will. Your will can be admitted to your local probate court after your death, and the court will consider your guardianship nominations before officially appointing a guardian for your minor children.
Photo Credits
Bob Scott/Photodisc/Getty Images