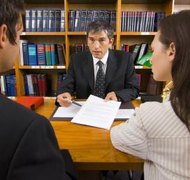 As of 2012, there were just over 1,268,000 licensed attorneys practicing across the United States, according to the American Bar Association. Since attorneys typically have specific areas of expertise and methods of practice, if you're going through a contested divorce, you'll want to find an attorney that's right for you. You should take some time to research lawyers in your area -- and not rely on luck when choosing your divorce attorney.
Referrals
You can start by asking for referrals from family and friends or people you trust. Once you have the names of a few attorneys who interest you, go online and research them. Most attorneys have websites with bios, interview clips and informational articles that can help you get to know these professionals. Narrow down your list to include the attorneys to whom you want to talk directly to make your final choice.
Questions List
Some attorneys charge for initial consultations and some do not. Divorces -- particularly uncontested ones -- can be quick, but contested divorces often go on for many months. Since divorce can be such a long haul, to make sure that you choose an attorney with whom you can go the distance, you have to ask questions. Inquiring about fee schedules and associated costs is important because these can vary greatly from one attorney to another. You'll also want to ask questions that are specific to your particular case like what approach the attorney wants to take. Ask about techniques to keep cost down -- such as mediation -- and whether the attorney is willing to work with you toward this goal.
Preparation
Expect a perspective attorney to also ask you questions during the initial consultation -- and be prepared to answer thoroughly. He'll likely want to know the reason you're divorcing, as well as what you want most from the process, whether it's custody of your minor children, or if there are no children, specific assets from which you are unwilling to walk away. Gather as much financial information and official documents as you can to bring with you to the consultation in case the attorney wants to see some numbers to better answer your case-specific questions.
Retainer Agreement
The actual hiring of your choice for representation involves signing a retainer agreement, or contract, that spells out what you and your attorney expect from each other. Make sure the information you've already discussed is included in the agreement before you sign it, such as the fee schedule and associated litigation costs. Also make sure that it includes your required billing payment schedule and how long you have to pay before the attorney withdraws from your case. Check that it includes a schedule for contact about the case, along with a commitment from the attorney to keep you informed of case progress and developments. Finally, make certain it includes your right to terminate representation should the attorney not follow through on his agreed-upon responsibilities.