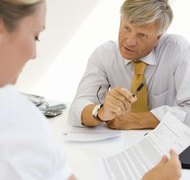 When you write your last will and testament, you have the opportunity to select a person to administer your estate after you die. Depending on the state in which you live, this person may be called a fiduciary, personal representative, administrator or executor of the estate. Regardless of title, the duties of this person will include gathering the assets of the estate, paying the bills and distributing the remaining assets to your beneficiaries. Choosing the appropriate person to perform these duties should involve consideration of the individual's age, abilities and understanding of your wishes.
Abilities
Many people choose a spouse, friend or relative as the administrator of the estate because they trust that individual to handle their affairs. Ideally, your administrator will have a history of managing his own financial and legal affairs responsibly. An individual who owns a business, manages investments successfully or is trained as an account, attorney or investment professional is likely to have the knowledge and experience to handle a complex estate. Remember, however, that your administrator can hire someone to assist her with taxes, legal issues and financial matters if necessary.
Age
It is often advisable to select someone younger to serve as your representative. In order to serve, the person must survive you and will hopefully live long enough to close out the estate. Many people choose an adult child for this reason. Consider the size and complexity of your estate when making this decision. Your spouse might be a reasonable choice if your estate is small and you live in a state with a streamlined probate process. If, on the other hand, you have a complex estate and you live in a state with lengthy probate processes, your adult child might be a better option. A reasonable compromise might be to name your spouse as administrator and your child as alternate administrator.
Willingness
Talking with the person you are considering as administrator will give her the opportunity to express concerns about her ability to settle your affairs. An adult child with heavy work responsibilities, for example, may not feel able to devote the time necessary to managing your estate, especially if complicated issues involving a blended family, property in several states or a high debt-to-asset ratio are involved. If you name an administrator without discussing it with her first, she may decline to serve and the responsibility will pass to the alternate administrator named in your will.
Availability
If possible, choose an individual who lives in the state where you live. Most states require at least one court hearing and many require several court appearances, so travel may be a burden to your administrator. In some states, such as Virginia, an out-of-state administrator may serve as administrator only if a state resident serves as registered agent or co-administrator. An active duty servicemember stationed in another country would also have difficulty serving as your administrator due to both time and distance constraints.
Trustworthiness
People who choose a spouse or other family member as administrator generally do so because they believe that they can trust the individual to handle the estate fairly and distribute the assets to according to their wishes. The court must also be convinced of the person's trustworthiness before issuing documents called letters testamentary that give the administrator the legal authority to handle your estate. If the court finds that the person has a conflict of interest, has been convicted of a felony or has declared bankruptcy, it is unlikely that he will be allowed to serve even if he is able to post a bond.