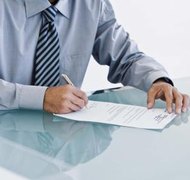 The life of a corporation is governed by state law. Unlike sole proprietorships, which are dissolved by simply ceasing business operations, determining an appropriate time to close up shop in a corporation can be more complex. Most states require that the decision be in writing and approved by a majority of the shareholders. Once the decision is made, the corporation remains in existence to "wind up" final corporate affairs, including making required filings with the state and paying all taxes and debts.
Dissolution Paperwork
After the decision to close a corporation has been approved, the next step is to file dissolution documents with the appropriate state office. This typically involves the filing of a certificate of dissolution or articles of dissolution with the Secretary of State and paying a filing fee. The document is generally short and typically notes that agreement was reached by vote in accordance with state law, specify the date the corporation is to be dissolved, and indicate how any remaining assets are to be distributed. If your corporation had to obtain any industry specific licenses or permits, these should also be cancelled during this time.
Employees
Certain notice requirements apply if your corporation has employees. Under federal law, corporations with 100 or more employees must provide at least 60 days advance notice of a closing to affected workers before ceasing operations. Further, some states have enacted more stringent versions of this law. New York, for example, requires at least 90 days' notice to workers in all corporations with 50 or more employees. In addition to providing the required notice, you must also make sure that all outstanding wages are paid and, in some states, pay additional wages to cover any unused leave time accrued by your employees.
Taxes
As part of the dissolution process, your corporation must still file required federal and state tax returns, including employment tax and sales tax returns, and pay any outstanding taxes due. At the federal level, you must indicate on the income tax form that this return is the last return, and include a supplemental filing that specifies how you will be disposing of any remaining business property. You should also close your Employer Identification Number account with the Internal Revenue Service.
Debts
Before your corporation can officially close down, you need to ensure that all outstanding debts are paid. This requires you to provide notice to any lenders and other creditors and provide them a window to collect. The exact form the notice must take is outlined in state law. In Utah, for example, the notice must be in writing and provide the creditor with at least 120 days to come forward with the claim or be forever barred. Once all claims are satisfied or the collection window has elapsed, any remaining assets can be sold for cash and the funds divided between the shareholders.