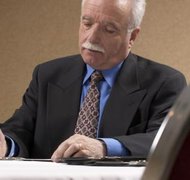 Connecticut wills must conform to state law in order to be declared valid. A will sets out how you want your property and other assets to be distributed after your death. As in other jurisdictions, it also allows you to set up trusts, name a guardian for your children and appoint an executor for your estate.
Legal Requirements
In order to make a valid will in Connecticut, you are required to be at least 18 years old and to be of sound mind. The will should almost always be written, and you must declare in it that this is your last will and that you are revoking any previous wills. You must sign the will before two witnesses. These witnesses may not be beneficiaries and must be at least 18 years old. When they sign the document, the witnesses must verify that they observed you as you signed the will.
Probate Court
The state of Connecticut is divided into 123 probate districts. According to the Trumbull County Probate Court, each district has a judge who is an elected official. The procedures you will follow in the probate court vary depending upon the value of your estate. For example, estates valued at less than $400,000 qualify for a simplified process.
Estate and Gift Tax
Connecticut imposes a tax called the Connecticut Estate and Gift Tax. According to the Probate Courts of Connecticut, although this tax is only payable with respect to estates that are worth more than $3.5 million, a tax return must be filed for every estate. Furthermore, this particular tax must be filed in the probate court. The probate court judge determines whether or not an individual estate is subject to the tax.
Dying Without a Will
State laws of intestate succession apply if you die in Connecticut without a will. These laws determine how your estate will be distributed; your property is granted to your relatives, beginning with your spouse, children and parents, then to grandchildren, siblings and cousins. If no relatives can be located, the estate is transferred to the state.