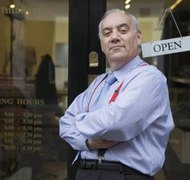 Many businesses start out as sole proprietorships because states have no formal filing requirements for this type of business. However, your choice of entity isn't one you should ignore for long. As a sole proprietor, you have unlimited personal liability for your company's debts. If you incorporate, you limit your personal liability, but the company is then subject to double taxation because it must pay corporate income tax. The "S corporation" is a special tax election that allows a qualifying company to pass through income directly to the owners rather than paying the corporate income tax.
Step 1
Select a name for your S corporation. If your sole proprietorship is operating under a fictitious name, prepare a letter of transfer to assign the name to the corporation. Typically, this is filed with the Secretary of State in the state where you intend to incorporate the business.
Step 2
Choose a registered agent. Registered agents must be located in the state and be available to receive legal correspondence and other documents. If you don't have an address in the state, you can retain a third-party registered agent and pay an annual fee for the service.
Step 3
Draft articles of incorporation. Usually, the Secretary of State's website will have a template you can download and use. Generally, you must include your company's name and address, the purpose of your business, the name and address of your registered agent, the number of shares the corporation is qualified to issue, and the name, address and signature of each incorporator.
Step 4
File your articles of incorporation with the appropriate state agency (usually the Secretary of State) and pay the filing fee. Some states allow you to register online, and you may be able to pay an extra fee for expedited approval.
Step 5
Apply for an employer identification number from the Internal Revenue Service. The EIN is for federal tax filing purposes. You can apply online or by phone, fax or mail. If you apply by fax or mail, complete Form SS-4. Regardless of how you apply, you must provide your name and Social Security number, your company's name and address, the type of entity, the type of business and information about employees you expect to hire.
Step 6
Complete Form 2553 to elect S corporation tax status. This form is available from the IRS website and requires your business information, EIN, date of incorporation and your company's tax year.
Step 7
File Form 2553 with the IRS by mailing it to the address specified in the accompanying instructions. The mailing address is determined by the state in which your S corporation will have its principal office.
Things Needed
Articles of incorporation
Employer identification number
IRS Form 2553
Photo Credits
Jupiterimages/BananaStock/Getty Images