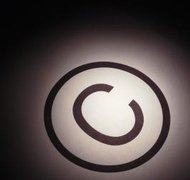 In most cases, an excerpt of a book cannot be copyrighted separately from the book itself. If you publish the excerpt on a Web page, however, you can publish an accompanying notice of the book's copyright on the page. You can do this whether or not you own the copyright to the book. One caveat to keep in mind is that if you are not the copyright holder, you must ensure that your use of the excerpt is within the fair use doctrine outlined in federal copyright law.
Step 1
Create your Web page with the book excerpt in the customary manner, using your text editor or HTML editor to code the document. Type or copy and paste the book excerpt into the document.
Step 2
Add the copyright symbol (a "c" within a circle) on the Web page. Generally, this should be placed immediately after the article containing the copyrighted excerpt.
Step 3
Add the year of the copyright and the copyright holder's name after the copyright symbol.
Step 4
Publish the Web page containing the copyrighted excerpt by uploading it to your server as you would any other content.
Tips & Warnings
Using the copyright symbol does not prevent someone else from publishing the excerpt on another website. Under the fair use doctrine, short excerpts of larger works are generally permitted.

If you add other content to the Web page besides the book excerpt, such as a critique or an accompanying explanation, you can copyright that portion of the page separately from the excerpt.
Photo Credits
Comstock/Comstock/Getty Images