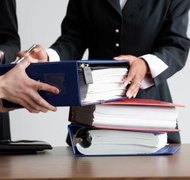 Copyright protection is automatically granted as soon as an original work of authorship is fixed in a "tangible medium of expression," such as a compact disc. Nevertheless, it is beneficial to register original works with the United States Copyright office. Unpublished works may only be registered as a "collection" if the elements of the collection are assembled in an orderly form, the elements bear a single title, the copyright claimant in all the elements and in the collection is the same, and the elements are by the same author. Published works may be published as a "collection" with the additional requirement that they were first published as a collection in the same publication.
Step 1
Navigate to the United States Copyright Office website. Click "Forms" and scroll down to "Group Registration Forms." Click the appropriate group registration form. For example, click "Form GR/PPh/ CON" to register a collection of published photographs.
Step 2
Print the form and fill it out using a pen with black ink.
Step 3
Mail the form, along with a check for the associated fees, to the address listed on the form. Note that forms for "collections" cannot be sent electronically.
Tips & Warnings
If you are unsure whether your works of authorship constitute a "collection," contact the Forms and Publications Hotline at (202) 707-9100.

Online document providers can help you copyright a collection.

If you are registering works by multiple authors contained in the same published work, such as an anthology of poems by different poets, as a "collection," the publication must represent the first publication of all the works (i.e. all of the poems were published for the first time in the anthology), and ownership of every work must be the same (i.e. all of the authors transferred copyright to a single person - such as an editor).

Fees associated with copyright registration change periodically. To determine current fees, navigate to the United States Copyright Office website and click "Fees" at the top of the website.
Photo Credits
Jupiterimages/Photos.com/Getty Images