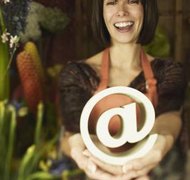 You put significant resources into developing your original Internet content. In the U.S., your original work is protected as soon as it is created in a fixed, tangible form. In the case of a website, for example, copyright exists from the moment you develop the site. Registration provides additional legal rights, including exclusive control rights and rights to sue for damages. Initial registration is fairly simple, but revisions and updates typically require individual registration, with a separate application and filing fee each time. If you change your online content frequently, you will need to weigh the costs and benefits.
Step 1
Create a fixed, tangible form of your online work. Develop your site, for example, or write your blog or e-zine. Original text, images, audiovisual materials and sound recordings are all copyrightable. Registration will extend to all of the original content you identify and submit to the copyright office with your application.
Step 2
Obtain a copyright application form from the U.S. Copyright Office. You can complete Form eCO on the U.S. Copyright Office's online system or download and complete Form CO if you plan to mail your application.
Step 3
Submit your application. If filing online, upload a copy of the entire work along with form eCO and your filing fee. If the work is too large for a single upload, you can do multiple uploads.
Step 4
Mail in Form CO, if filing by post, along with a computer disk or CD-ROM containing the entire work and a hard copy (printout, audiocassette or videocassette) of representative portions of the work to the U.S. Copyright Office in Washington, DC. If you are not sending a disk or CD-ROM, then a hard copy of each page of the entire work must be submitted.
Things Needed
U.S. Copyright Office Form eCO or CO
Filing fee per work
Digital copies of the works if filing online
Computer disk or CD-Rom of the work and a hard copy if filing by mail
Tips & Warnings
You can attach a copyright notice to your online content. A notice is not a requirement for copyright protection, but it can deter accidental or "innocent" infringement. You may also use a notice to state your own policy on what can and cannot be copied from your online content.

In some cases, you can register serial or collective works under a single registration. Serial works can include online magazines, newsletters, newspapers and similar works.

Consider filing through an online document provider.

Revisions and updates to your online content generally require separate copyright registrations. A single registration covering up to a 3-month period may be allowed for frequently updated online works that are considered automated databases, such as online catalogs.
Photo Credits
Jupiterimages/Brand X Pictures/Getty Images