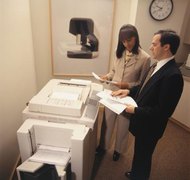 The use of photocopiers is so common that users don't normally give much thought to copyright law. However, federal law defines the unauthorized copying and distribution of any copyrighted material in any fixed, tangible form as infringement of copyright. In some cases, the law allows for exceptions, but students, researchers, businesses, librarians and teachers should be well aware of the limits of such "fair use."
Infringement
Strictly speaking, reproducing a copyrighted work without the permission of the copyright holder is an infringement of copyright, which is a right held by the creator of a printed work, regardless of whether that copyright has been registered. This includes making photocopies for free distribution, commercial publication or personal use. Individuals violate copyright when they make photocopies of copyrighted works, as do retail copy shop that only sell the copying service.
Research and Education
The law makes exception for the use of photocopied works in research, scholarship, teaching or the news media. This would include the distribution of photocopied book excerpts to students in a class, or the copying of an article for use by someone writing a report or dissertation, or acting as a newspaper reporter. However, copyright law does not permit lending photocopies under any circumstances. A library that allowed patrons to borrow a photocopied article or book -- no matter the length of the work -- would be violating copyright law, and subject to a lawsuit.
Fair Use
The U.S. Copyright Office offers general guidelines for "fair use" of multiple copies of copyrighted works in an educational setting. For a prose work, such fair use is limited to a complete story or article of less than 2,500 words, or an except that is the lesser of 1,000 words or 10 percent of the copyrighted work. Not more than one article or story from a single author can be used, and the copying has to meet the test of "spontaneity": The use must be so immediate that it would not be reasonable to demand that the copier seek reproduction rights or formal permission from the copyright holder.
Considerations
It's important to remember that there are no strict guidelines on fair use written into law. The doctrine can be interpreted variously depending on the nature and the use of photocopied materials. If the photocopying substantially affects the author's right to income such as royalties from his work, then a copier would have no claim to fair use. The same is true if the copying itself affects the market value of the work. Any copyright holder who has registered a work with the copyright office has the right to sue for damages for any infringement, including unauthorized photocopying.
Photo Credits
Keith Brofsky/Photodisc/Getty Images