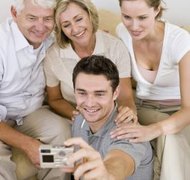 Photos are commonly used on websites to sell products, and copyright protection can help you assert your ownership rights to your Christmas photos. If you took the photos, you already own the rights to them and can assert your rights against anyone selling them or inappropriately using them. However, registering the photos with the U.S. Copyright Office will provide a public record of your ownership of the photos and can make it easier to enforce your copyrights. If, however, a professional photographer took the photos, he probably owns the copyrights to the photos and you will have to obtain his permission to use them. If you want him to transfer copyrights to you or share copyrights with you, you may need to pay him.
Step 1
Talk to the person who took your photos about obtaining rights to them. Professional photographers will often allow customers to use photos on social media sites without claiming copyright infringement. If you want to own the rights to your photos, however, you may need to pay your photographer for them. Some photographers offer package deals in which customers can buy rights to their photos; others will be happy to turn over rights for a small fee. Ask the photographer to put your agreement about the rights to the photos in writing. Some photographers may wish to be credited if you publish the photos online, and giving you rights may be contingent upon this. If the photographer is unwilling to grant you the rights to your photos, you may not copyright them and must not publish them except as allowed by your contract with your photographer.
Step 2
Determine whether the photos are published or unpublished photos. Family photos for personal use that have been posted on social networking sites are typically classified as unpublished photos. Photos that have been used in marketing publications, books or on commercial websites are usually classified as published.
Step 3
Register your photos using The U.S. Copyright Office's Form VA. Photos are classified as two-dimensional works. If the photos have been published, send two copies of the "best edition" — a clear image, according to the copyright office — of first publication along with the form. If the photos have not been published, send one copy of the photo along with the form. Pay the filing fe, and send the form to the address listed on the form.
Step 4
Add a copyright symbol, your name and the year of copyright to the photos. While this is not necessary to enforce your copyrights, it does act as a deterrent against illegal use.