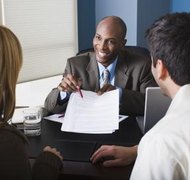 In the United States, federal law does not dictate the form a will must take to be legal. Instead, individual states are free to enact their own rules and laws regarding the validity of wills. Knowing how to create a legal will in Michigan, therefore, requires knowledge of the particular rules and limitations on wills under Michigan law, such as the need to be at least 18 years old.
Step 1
Draw up a list of your assets, such as money, land and other property. Write a list of the people you want to leave the assets to. Creating lists helps you clarify who should receive each asset, or part thereof, and ensures you do not leave any person or property out by accident.
Step 2
Consult an attorney practicing law in Michigan, providing her with the lists you have drawn up and explaining that you want to create a will. Alternatively, write your own will at home, either on computer or by hand. Handwritten wills, known as "holographic wills," are valid only if they are dated, signed by you and are in your handwriting.
Step 3
Sign your will in the presence of two witnesses, neither of whom can be a beneficiary in the will (i.e., they cannot receive money, land or other property as a result of your death). Have both witnesses sign the will after you do. The witnesses do not need to see you write the will; they need only see you sign it. Holographic wills do not require witnessing under Michigan law.
Tips & Warnings
Michigan law places few requirements on the actual form of your will, so you do not necessarily require an attorney or even a template will to work from when creating your own legal will in Michigan. However, a template will make the process of drafting a will at home far quicker and easier.

If you choose to create your will using a form or template, make sure it fits your exact purposes. Michigan law requires that the property being distributed is your own rather than property you partly own. If you are uncertain about any aspect of writing a will, it is advisable to consult an attorney rather than attempt to muddle through yourself and risk your will being invalid.
Photo Credits
Jupiterimages/Comstock/Getty Images