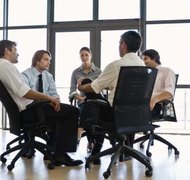 The limited liability company, or LLC, is a relatively recent innovation in business organization. It offers the twin advantages of limited liability and pass-through taxation. The liability of members for the debts of an LLC is limited to the amounts of their respective capital contributions, and the LLC is not taxed separately -- instead, members are taxed on their income derived from the LLC. Furthermore, LLCs need not comply with many of the record-keeping requirements that corporations must adhere to.
Step 1
Choose a name for your LLC. The name must not be already in use in the state, and must conform to a certain format -- typically, it must include the words "limited liability company" or the term "LLC." The website of your state's Secretary of State may include a search engine that will allow you to determine if your preferred name is already in use.
Step 2
Select the members of the LLC and determine their relative capital contributions. One-member LLCs are acceptable in some states.
Step 3
Appoint a registered agent for the LLC. The registered agent is the legal representative of the LLC, and the LLC's liaison with the state government. The registered agent can be either a member or a non-member of the LLC.
Step 4
Draft the LLC's Articles of Organization. This is usually a one-page document that must be filed with the government of the state where the LLC is organized. Many states provide their own forms. The Articles of Organization typically includes the name of the LLC, the principal office address, the name of the registered agent, the names and positions of the LLC's initial members, and the initial capital contributions of each member.
Step 5
Publish a notice of your intention to create the LLC in a local newspaper. Some states do not require public notification.
Step 6
File the Articles of Organization with the Secretary of State of the state in which the LLC will be organized, and include a filing fee -- usually several hundred dollars.
Step 7
Draw up an operating agreement for your LLC and have each member sign it. The operating agreement is similar to a partnership agreement, and should cover voting rights, management procedures and financial policies. Although no state requires an LLC to have an operating agreement, it will become important if a dispute ever arises among the members.
Step 8
File the LLC operating agreement with your state's Secretary of State, if your state allows this. Some states do not accept the filing of operating agreements.
Things Needed
Articles of Organization
Filing fee
Operating agreement
Tips & Warnings
You will need a physical mailing address in the state in which you set up your LLC -- a post office box is insufficient.

Because LLC regulations vary somewhat from state to state, check the law of the state in which you intend to organize your LLC.
Photo Credits
Jupiterimages/BananaStock/Getty Images