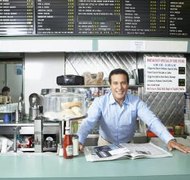 Limited liability companies are simpler and easier to manage than other business entities, such as corporations. An LLC not only has fewer reporting requirements, but also fewer documents to file upon creation. Though some states require that the LLC maintain an operating agreement, many require only the filing of your articles of organization with the state's Secretary of State before you may begin operating your business.
Step 1
Contact your state's Secretary of State to obtain an articles of organization form. Each state maintains its own unique form and often makes the document available on its website.
Step 2
Perform a business name lookup with the Secretary of State. No LLC may share the same name in one state, and no LLC may choose a name that could cause confusion. Many state websites feature a database of registered companies in the state. Search this database to ensure that your name has not already been taken.
Step 3
Omit any proscribed words or phrases from your business name and append any required suffixes. The laws on this vary from state to state, but many states ban such words as "trust" that may cause confusion. Additionally, most states require that your business name end with the words "limited liability company" or "limited," or the abbreviation "LLC."
Step 4
Select a registered agent for your LLC. The registered agent must be a resident of the state in which you are forming your company, and will be responsible for receiving official documentation, such as notifications of lawsuits. Some states allow you to be your own registered agent, or you may select a registered agent service or other individual even if your company does not employ him.
Step 5
Write your LLC's name, your name, address and telephone number, your registered agent's name, address and telephone number, and any other information required by your state's articles of organization form. Sign and date the form where instructed.
Step 6
Submit your articles of organization to the Secretary of State. Many states allow you to do this electronically, but you can also usually mail the physical form if you prefer. Most states require a filing fee that must be included with your application.
Step 7
Draft an operating agreement that outlines the terms of your LLC, such as who its owners will be, what share each owner will have, the obligations of each owner, how new owners may be brought into the company, how retiring owners may leave and any other rule you wish to explicitly outline. This document needs to take no specific form, and generally need not be filed with the Secretary of State.
Tips & Warnings
Many states do not require an operating agreement, but it's a good idea to have one in case of future LLC disputes.

Do not begin operating until you have received an official letter from the Secretary of State recognizing your LLC. When you receive this letter, you may immediately begin using your LLC's name in official business dealings.
Photo Credits
Jason Florio/Digital Vision/Getty Images