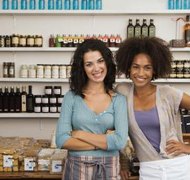 If you wish to operate a business under a name other than your own, you must register that name with the state agency that handles business filings -- in many states, this is the office of the Secretary of State. You must clear the name by researching similar names already in use and then file a short application that includes basic information about your business.
Research
Before undertaking a "Doing Business As", or DBA, filing -- also known as a fictitious name registration -- you will have to do some background research. You must search the current registry of fictitious names operating in the state; this can often be done by accessing a public website and doing a simple name search. Typically, you may not register a DBA name that is identical or similar to another name in use, since this will likely cause confusion among the public and be deemed unacceptable. Opening your own private "McDonalds Restaurant," for example, will probably not fly with your state's business office, even though your name is slightly different from the chain restaurant's name.
Required Information
The basic procedure for a DBA registration is similar throughout the country. You must provide the fictitious name exactly as it will appear on other business filings, tax forms, advertising and public displays. You must provide the name of the owner (whether an individual or business entity), the principal place of business and a contact phone number. Some states also require the use of a registered agent to receive legal papers on behalf of the company; this can be a business employee or owner, attorney or someone who works for multiple clients solely in the capacity of registered agent.
LLCs and Corporations
If the organization is a partnership or limited liability company, the DBA registration may require the names of the individual owners or partners. A corporation usually must provide its principal business address if it is not located within the state. The agency handling the registration may require a Social Security number from sole proprietors and Employer Identification Numbers from business organizations. You can obtain an EIN by filing Form SS-4 with the IRS or by completing an online application.
Changing the Business Name
If you operate a business under multiple fictitious names, each one must be registered. You do not have to register slogans or mottos, although these may be subject to trademark or copyright protection. If you change the DBA name of your business, you typically must file a new or updated DBA registration denoting the change. Many states also require publication of the registration, meaning a printed notice in a general circulation newspaper for two to four weeks. Additionally, DBA registrations often have an expiration date. So if you wish to continue using a DBA after its expiration date, you will need to renew the registration and pay a new filing fee.