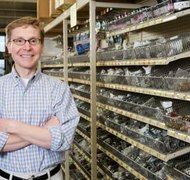 Your business name will be the first point of contact for most of your customers, so making sure you have one that catches their eye and gets them interested is critical to achieving business success. So is making sure you're using a legal name that is available in the state -- otherwise you could find yourself being sued for infringing on another business's name. In Kentucky, the Secretary of State is responsible for making sure all new business names are distinguishable from those already in use within the state.
Step 1
Search names using the Name Availability Search tool on the Kentucky Secretary of State's website. You can also request a preliminary name availability check by writing to the Secretary of State or calling (502) 564-3490. These searches aren't binding; therefore, a name available today might not be available tomorrow. There is no charge for a preliminary determination.
Step 2
Complete an application for a reserved name if you want to secure a name for future use, but aren't ready to start your business yet. You can reserve a name for up to 120 days by filing the Reservation or Renewal of Reserved Name form with the Secretary of State and paying the filing fee. You are allowed to renew the reservation up to 30 days before the reservation ends, which extends your reservation for another 120 days.
Step 3
Submit your company's founding documents, such as the articles of incorporation or articles of organization, to the Kentucky Secretary of State. Only after submitting these documents, or your Reservation of a Reserved Name, does the Secretary of State make a final determination as to whether the name you want is available.
Tips & Warnings
The Kentucky Secretary of State disregards entity designations, such as "limited liability company," "incorporated," and "limited," when determining whether a business name is available. Entity designation abbreviations, like "LLC," "Inc.," or "Ltd.," are also disregarded. For example, if "Freddy's Fine Furniture, LLC" is already in use, you can't register "Freddy's Fine Furniture, Inc." for yourself.

Plurals, possessives, punctuation marks and numbers are all insufficient to make a name distinguishable. For example, if "2 Brothers Editing" is taken, you can't register "Two Brothers' Editing."

Just because your name is approved by the Secretary of State doesn't mean it's protected for use in selling goods or providing services. If your name infringes on another name already in use, someone else could have trademark rights to it even if it isn't formally registered because trademark law generally gives the legal right to the business that uses the name first.
Photo Credits
Jupiterimages/Photos.com/Getty Images