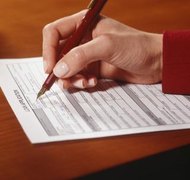 North Dakota passed a law in 1971 that allowed couples to divorce on the ground of irreconcilable differences. The law provides that such differences are reason enough for a court to decide that a marriage should be dissolved. Even though the law doesn't actually use the term "no-fault," the North Dakota Supreme Court made it clear in 1978 that a divorce action based on irreconcilable differences is one that sidesteps accusations of wrongdoing, so courts do not need to address fault.
Residency Requirement
You must be a resident of North Dakota for at least six months to file for divorce in the state. The residency requirement is one of good faith, so if you moved to North Dakota for the sole purpose of getting a divorce or you are not an actual resident of the state, you will not be considered a resident of North Dakota for divorce purposes.
Grounds for Divorce
Several grounds for divorce are available in North Dakota, including adultery, desertion, cruelty, neglect, felony conviction and alcohol or drug abuse. Irreconcilable differences -- the only ground for a no-fault divorce -- are those circumstances determined by the court to be substantial reasons for not continuing the marriage and which indicate the marriage should be dissolved. Under the ground of irreconcilable differences, you are not required to allege wrongdoing or other negative behavior on the part of your spouse.
Forms Needed
To file for a divorce in North Dakota, you will need to complete and sign several forms. These include a a complaint, summons and verification. The complaint must state how long you have lived in the state, both spouses' names and residences, if known, the length of the marriage and the grounds for divorce. For no-fault proceedings, you should simply state that the ground is irreconcilable differences. If you and your spouse are able to agree to the terms of the divorce, a settlement agreement, along with a list of all the property and debts of the parties and an admission of service by the non-filing spouse, must be signed and filed with court. When you file a settlement agreement, you must also file a Findings of Fact, Conclusions of Law and Order for Judgment form, and a Judgment form for the presiding judge to sign.
Service and Response
When you file a divorce action, you must serve the court documents on your spouse. This can be done by a third party, such as a process server who delivers the summons and complaint personally to your spouse, or you can hand your spouse the paperwork personally if he is willing to accept the papers and sign a document saying as much. Alternatively, you may also mail the documents by certified mail with return receipt. If the location of respondent spouse is unknown, the filing spouse may be permitted to give service by publishing an advertisement in the appropriate newspaper. Whoever actually hands or mails the paperwork to the defendant spouse -- you or a third party -- must sign an affidavit of service and file it with the court. Once service is made, the defendant spouse has 20 days to respond. If the defendant doesn't respond within the time allowed, you can make a motion for a default judgment of divorce. In case of a default, you will typically be awarded what you asked for in the complaint.