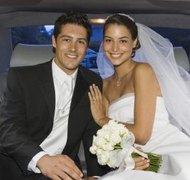 In the excitement and romance surrounding a wedding, some couples lose sight of the fact that a wedding is a contract that changes the legal status of two people. It takes a legal act to dissolve that contract. Because of these legalities, state governments keep track of the marriages and divorces that take place within their borders.
Disclosure of Previous Marriages
State governments record the births, deaths, marriages and divorces of their residents. If you need proof of one of these events, you can get a copy of the official certificate from your state's vital records agency. When you get divorced, you fill out a form that documents the dissolution of your marriage. On that form, you must disclose information about previous marriages, including whether you or your spouse have a previous marriage, date each person's last marriage ended and reason marriage ended: by death, annulment or divorce.