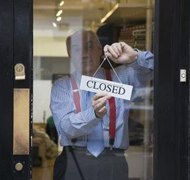 Bankruptcy generally dissolves an LLC. If you want to dissolve your LLC prior to filing for bankruptcy, you can. Your operating agreement, if you have one, should include dissolution procedures. If you do not have an operating agreement, you should follow your state's procedures. In choosing dissolution, there are many factors to be resolved related to taxes, liabilities and assets. Most states require that any outstanding business issues, including debt, are resolved prior to dissolution.
Step 1
Review your operating agreement, if you have one. Your operating agreement should specify the steps you need to take for dissolution. Dissolution may require a vote by all members or some percentage of the members.
Step 2
Obtain copies of state forms. Fill out your state's articles of dissolution. This is usually a short form provided by the secretary of state's office, or other comparable state government office, specifying what steps you must take to dissolve your LLC. The form will indicate if you need to fill out and file any additional paperwork with your articles of dissolution.
Step 3
Wind down the business affairs of the LLC. Again, review your operating agreement and state requirements for winding down procedures, including selling assets, paying creditors and taxes, and distributing any remaining funds.
Step 4
Notify your creditors and debtors of the LLC's dissolution. Most states require you to notify creditors and debtors about your plan to dissolve the LLC and pay any outstanding debts. You may need to get a letter from your state taxing agency certifying your taxes are paid. This letter, if required, is then filed with your articles of dissolution.
Step 5
After you've finalized all outstanding business and financial matters, close all remaining business accounts.
Step 6
File your articles of dissolution and any other state-required paperwork for dissolution with the secretary of state, or other comparable office. Pay any fees charged for the filing of the dissolution documents. You can file and pay your fees online or via mail in most states.
Tips & Warnings
Articles of Dissolution are sometimes referred to as a Certificate of Cancellation or Certificate of Dissolution.

You can use an online document preparation website to assist you with the dissolution process.

You may want to consult with an attorney to be sure that you are in compliance with state requirements.

Improper dissolution procedures can lead to lawsuits filed against the LLC by members of the LLC, creditors or others.
Photo Credits
Jupiterimages/BananaStock/Getty Images