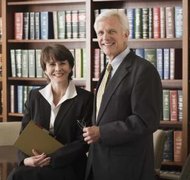 A nonprofit organization usually has a social, educational or religious purpose and conducts its business with the aim of raising funds to further that purpose. A board of directors takes responsibility for managing a nonprofit corporation, and the directors may also become members of the corporation.The Delaware General Corporations Act – DGCL -- contains the legal rules for forming, operating and dissolving nonprofit corporations in the state. Title 8 of the DGCL sets out the procedure for winding up and dissolving corporations.
Procedure
The directors and members of a nonprofit organization may choose to dissolve it for a variety of reasons, for example, if it was set up to raise funds for a particular purpose, and that purpose has been achieved. The board of directors of any corporation, whether for-profit or nonprofit, will take the decision to dissolve it, according to Section 275 of the DGCL. If the nonprofit corporation also has members, the directors must inform the members and give them a chance to vote on the decision to dissolve. They may either hold a meeting at which the members can vote or, alternatively, allow the members to vote in writing.
Certificate of Dissolution
Once all relevant parties have authorized the dissolution, the directors must file a certificate of dissolution with Delaware's Secretary of State in accordance with Section 275 of the DGCL. The certificate must state the name of the corporation, the date the dissolution was authorized, and the names and addresses of all directors. The certificate should also confirm that all members, if applicable, have agreed to the dissolution.
Tax
All nonprofit organizations must file federal and state tax returns on a regular basis. If the board of directors decides to dissolve a nonprofit corporation, it must inform the IRS and the Delaware Division of Revenue. The Delaware Division of Revenue requires that the responsible directors check the "out of business" box on all official returns and also notify the Division of the final day of business operations. The Delaware Division of Corporations can provide all necessary state tax forms for completion.
Continuation
Once an organization has been dissolved, it no longer exists in legal terms for the purpose of pursuing its original aims. However, Section 278 of the DGCL states that corporations shall continue to exist for three years after dissolution for the purpose of pursuing or defending court actions or otherwise winding up the business. This means that a nonprofit organization can sue and be sued even after it has been dissolved.