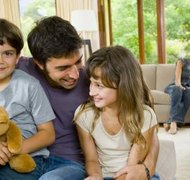 A divorce by agreement might sound like a contradiction in terms, but many couples manage to put aside their differences and map out a plan for their futures apart. When a couple can reach an agreement on all issues of their marriage, they have achieved an uncontested divorce which allows them to avoid a trial and finalize their divorce in a short period of time. In some states, the couple can submit their agreement and avoid going to court altogether.
Settlement Agreement
A marital settlement agreement generally addresses all issues of the marriage, including division of property and debts, spousal support, child support and custody. A marital agreement can be as detailed as the couple chooses to make it, so long as the court approves of its content. Some states will approve a general settlement agreement. Others, such as Arizona, specify that an agreement must include certain details, such as a parenting plan that dictates a visitation schedule. Many states provide court forms that a couple can complete to put their agreement in writing. Online legal document providers also offer forms.
Mediation and ADR
Most states encourage couples to reach marital settlement agreements to avoid having the court decide their personal interests. Some states offer mediation, or alternative dispute resolution programs, to divorcing couples at minimal to no charge. In mediation or ADR, the couple meets with a neutral third party to try to resolve their differences. An attempt at mediation is required in many jurisdictions before a case will be set on a trial roster. In New Jersey, couples must take part in a program called Matrimonial Early Settlement Panel to resolve their economic issues. If they are unsuccessful, they will be referred to mediation for their economic issues and might also have to go through mediation to handle custody matters.
Benefits
Courts encourage couples to reach agreements because settling without a trial saves everyone time, money and emotional turmoil. Trials cost a lot of money for the parties involved, and the strain on the couple and their family can be overwhelming. However, the greatest benefit to the couple is that they are able to retain control of their personal decisions. Most people will be more satisfied with a plan they have contributed to than a plan a judge handed down to them. When children are involved, the children can voice their opinions and have a say in the details of the visitation schedule, for example.
Court Order
After reaching a marital settlement agreement, the couple submits it in writing to the court – often, at a final hearing. If the judge approves the agreement, it is incorporated into the divorce decree and becomes an order of the court. Like other court orders, the agreement is enforceable; therefore, if one party violates the order, the other can appeal to the court for help. Afterward, the couple usually can modify the agreement, but they will have to seek court approval for the changes to be enforceable.