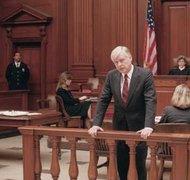 The presence of abuse can add a sense of urgency to the Texas divorce process. Because of the severity of domestic violence, the state allows judges to waive the mandatory waiting period if an order of protection is in place. However, the length of time before the divorce becomes final invariably takes longer than 24 hours and will depend greatly on the responsiveness of your spouse and the court's schedule.
Protective Orders
Protective orders are a mechanism used by the court to prevent further abuse of a spouse or child. They may be permanent in nature following a hearing or issued on a temporary basis in emergency situations. As part of the order, the abuser may be required to leave the marital home and prohibited from contacting you or your child. Once issued, the order is enforceable by both the police and the court.
Reconciliation Period
Texas law provides a 60-day waiting period for divorces. This means that, for most divorces, the earliest possible date a divorce may be finalized is on the 61st day after the petition is filed with the court. Because divorces represent a fundamental change in the legal relationship between spouses and greatly affects children and property, the waiting period is meant to encourage reconciliation. However, an exception to this rule applies in cases of domestic violence. In these cases, a judge has the discretion to waive the time requirement if an order of protection has been issued. The rationale is that the state's interest in promoting marriage should not outweigh the safety of a spouse or child.
Response Period
Although protective orders provide judges with the authority to waive the waiting period, divorces still take time. In addition to dissolving the legal relationship, the divorce process requires the resolution of issues related to property, custody, and child and spousal support. By law, the abusive spouse is entitled to notice of the divorce action and has 20 days to respond after service of the divorce petition. It may take additional time for authorities to contact your spouse and deliver your paperwork.
Scheduling
You may request a hearing after your spouse files a written response to your petition or fails to respond within 20 days. However, the divorce will not be finalized until a judge either accepts your settlement agreement, finds your spouse in default for failure to answer, or resolves the matter by a trial. Moreover, the date of the hearing in both contested and uncontested divorces is determined by the court based on its schedule and availability, which may not be immediate.