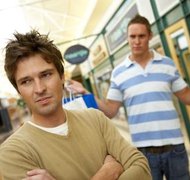 At the time of publication, six states and the District of Columbia recognize same-sex marriages: Massachusetts, New York, Connecticut, Iowa, Vermont and New Hampshire. California passed legislation legalizing same-sex marriages, then repealed it. As a result, only those marriages entered into between May 15, 2008 and November 4, 2008 are recognized in that state. New York and Maryland recognize same-sex marriages entered into in other jurisdictions. If partners marry in any of these states and remain living there, divorce is only slightly more complicated than when a heterosexual marriage dissolves.
Jurisdictional Problems
States that allow same-sex marriages generally apply their heterosexual family law code to their dissolution. A few states don't recognize same-sex marriages, but they will grant divorces under the same terms as they would to heterosexual couples. These states include Minnesota and Wyoming. Same-sex marriages are heard in family court in all these jurisdictions. In other states, dissolving a same-sex marriage requires bifurcation of the issues, or separating them into different legal actions so various courts can decide them. For example, family courts rule on issues regarding children of the marriage, but civil courts must address property issues.
Children
Parents are particularly vulnerable in states that do not recognize same-sex marriages. The parent who is the biological mother of a child born to a same-sex union has custody. Unless her spouse legally adopted the child, she would have no rights to custody or even visitation. This applies to male couples that adopt children as well. Unless they adopted the children jointly, the parent who is not the adoptive parent of record generally has no rights.
Federal Law Issues
The United States government adheres to DOMA, the Defense of Marriage Act. Under the terms of DOMA, only men and women can legally marry. Therefore, even in states where legislation accommodates same-sex divorces, couples are at a disadvantage under federal law. For example, alimony is normally tax deductible to the spouse paying it. However, a same-sex partner paying alimony must pay income tax on that money because the IRS doesn't recognize same-sex marriages. Same-sex couples are also subject to tax penalties when they attempt to divvy up retirement benefits in a divorce situation.
Options
A spouse in a same-sex marriage can relocate back to the state where the couple married to get a divorce, if they no longer live there. However, this can be problematical because all states have residency requirements. The spouse filing for divorce would have to live there for a period of time before filing. Same-sex spouses also have the option of creating prenuptial agreements, post-nuptial agreements, cohabitation agreements and estate-planning documents to deal with the possibility of divorce. Because these are legal contracts, they escape family court jurisdiction and are enforceable even in states that do not recognize same-sex marriages or same-sex divorce.