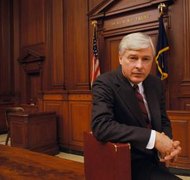 A good divorce attorney does more than just file papers that eventually dissolve your marriage. He draws from a variety of options to help achieve the best result for you. He investigates your case, makes appropriate motions to the court, executes income and support calculations, and communicates with the court on your behalf.
Initial Consultation
Divorce attorneys offer initial consultations, sometimes for free. This 15- or 20-minute meeting allows you to get to know the attorney and decide if you are comfortable hiring him. It also allows you an opportunity to ask questions about the divorce process -- and his answers might help you decide whether to file for divorce in the first place. During the initial consultation, the attorney should also give you an idea of how much your divorce will cost, including both court costs and attorney fees.
Listening and Investigation
A good divorce attorney knows that every case is different. Therefore, his first job is to listen and make careful notes as you relate the facts of your case. Only with a thorough understanding of your situation can your attorney put together the best case for you. This sometimes involves digging a little deeper, either confirming facts you know, or engaging in discovery -- an exchange of information with your spouse's attorney or others -- to identify information of which you may not be aware, such as hidden assets.
Petition for Divorce, Financial Affidavit and Other Divorce Paperwork
Your attorney starts your divorce by drafting and filing the initial petition -- and then filing any additional required forms. He takes your personal financial data and organizes it into a court-required financial affidavit format. Your divorce attorney also calculates spousal and child support based on your state's guidelines. He then fills out supporting paperwork, such as the Uniform Child Custody Jurisdiction and Enforcement Act form, required in all states if a divorce involves minor children.
Interim Motions
If your attorney feels you are entitled to financial support during the divorce process, he will file a motion with the court, asking for it. He will also ask for anything else he feels will help your case, such as a temporary custody arrangement while your divorce is pending or an order addressing payment of bills until your divorce is final. The court will order hearings on these issues where your attorney will appear and make his argument for why the judge should grant the requests he made in the motion.
Uncontested Divorce
If your split is friendly, and you and your spouse are not arguing over money, property or custody, your attorney will guide you through an uncontested divorce. He will draft a marital settlement agreement and parenting plan, if you have children. The settlement agreement divides marital property and debts, and it establishes support obligations, if any. The parenting plan establishes where the children will live, a visitation schedule, child support, and which parent will make major decisions regarding them. Your spouse's attorney will probably draft the same documents, and then the two attorneys will negotiate until you and your spouse are in agreement as to the terms and details. Your attorney has a duty to keep you fully informed of the progress of negotiations. He will then represent you at a final hearing, where the judge signs off on the final versions of the agreements.
Contested Divorce
If you can't agree on division of marital assets, support, or issues involving the children, your divorce is contested. Your state may require you attend mediation to try to reach an agreement. Depending on the rules in your state, your attorney may or may not be present to communicate with the mediator on your behalf. If any contested issues remain after mediation, your attorney will prepare for trial. He may call in professionals to investigate your spouse or his business dealings, conduct depositions of witnesses, and issue subpoenas for witnesses to appear for questioning at trial. Your attorney will also present physical evidence at trial, such as photos or financial documentation that may be pertinent to your case. Finally, he will ask the court to grant whatever requests he made in the initial petition, such as spousal support, division of assets or child custody.