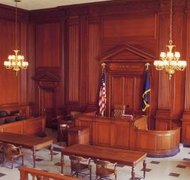 When you're up to your ears in divorce paperwork, it might seem like you're divorce is going to go on forever. Just keep in mind that every divorce action inevitably ends. However, exactly how it ends and how long it takes to reach that end can vary, depending on state law and the individual case.
Case Prosecuted Through Judgment
In a typical divorce case, the case ends when the court issues a final divorce judgment -- and the deadline for post-judgment motions and appeals passes. If a spouse brings a motion for a new trial or files an appeal, the divorce case ends when a decision is rendered in the motion or appeal.
Case Withdrawn
If you file a divorce action and have a change of heart, you can dismiss the case without court permission at any time before your spouse files an appearance. That terminates the case. If you and your spouse have both appeared in the case but you decide to give the marriage another try, you can both ask the court to dismiss the action, which likewise ends the case.
Case Thrown Out
It is the policy of state courts to keep cases moving along. If the petitioner in a divorce case does not take action to move the case toward judgment, the court has discretion to dismiss it. For example, California law permits a judge to dismiss a case if the case is not served within two years or not brought to trial within three years. When the time for appealing an order of dismissal has passed, the case is terminated.