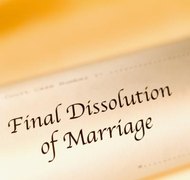 Montana's legal term for divorce is "dissolution of marriage." Finalization of a divorce requires a court order, often known as a divorce decree or decree of dissolution of marriage. While you can represent yourself during a divorce proceeding in Montana courts, you may want to consult with an attorney to get specific advice about your situation.
Petition for Dissolution
To obtain a divorce decree in Montana, you must first file a petition for dissolution of marriage in the district court of the county where you live. One or both spouses must have lived in the state for a minimum of 90 days prior to filing for divorce. The clerk of court typically provides sample petition forms you may use to file the petition. However, if these forms do not fit your situation, you can easily obtain a tailored form from an online legal document preparation site. The petition should include a proposed parenting plan, if there were children born during your marriage, and any other terms you're seeking from the divorce. Pay the filing fee and file your petition with the clerk of court to begin your divorce case. You must also serve the petition and a summons on your spouse, notifying him of the pending divorce action. The court will provide instructions as to how to complete your case, which usually involves attending a court hearing.
Contents of the Decree
The decree should include information regarding your case, such as when you were married, how long you have lived within the court's jurisdiction, whether there were children born during your marriage, and the grounds for divorce, which can be either the marriage is irretrievably broken due to marital discord with no possibility of reconciliation or the marriage is irretrievably broken because the parties have lived apart for at least 180 days. The decree will also contain the court's order regarding property division, child support, a statement your marriage is dissolved and any other relevant information.
Name Restoration
A wife may restore her maiden name as part of the divorce process. This is not automatic; it requires a request from the wife to the court. However, if the wife makes this request, the court must order the name change, which should be included in the divorce decree. Montana law neither allows the husband to make this request nor the husband's former name to be restored if he changed it when the couple married.
Finality
A divorce decree is final as soon as it is officially entered into the court's records. You can still appeal the decree if you don't like some of its terms, but a marriage is dissolved regardless of whether either party appeals the decree. For example, if you appeal the property distribution amounts in your decree, you are still free to remarry while you are pursuing your appeal.
Complying with the Decree
If your ex-spouse violates the decree in some way, you may return to the court to ask for help with enforcement. However, your ex-spouse's violations do not give you a legal excuse to violate the decree in retaliation. For example, you do not have the legal right to stop paying child support if your ex-spouse violates the child custody arrangement by not allowing you to visit your children as scheduled.